Recommended Industry and Workpiece
Grinding machine Machine tools Machine tool bed and column
Grinding machine Various machine parts Various machine parts
Product characteristics
High precision
Rigid construction
Heat deformation suppression
Precise spindle
Vibration suppression
Precise feed mechanism
Coolant temperature control(option)
Abundant additional technology(options)
Automatic measuring device of grinding allowance
Convex/Concave grinding device
Automatic grinding wheel changer
Palette changer
Tandem table system
Excellent operation
CRT Built into concentrated pendant control box(Current position display)(Grinding program display)
Spark-on control
CNC automatic operation
High precision
Horizontal spindle grinding head
Accurate vertical and horizontal feed of the grinding head is controlled by AC servo.
The slideways are coated with low friction fluoro-plastic plates.
Dressing device
The hydraulic dresser feed uses precisely finished dovetail slideways.
Angled faces are dressed automatically with the index coupling(in 5[degree]steps)
Under programmed operation, the dressing infeed and opening and closing the grinding wheel cover are performed automatically.
Hydrostatic bearing grinding spindle
The grinding spindle is constructed with high rigidity, high precision, low vibration, hydrostatic bearings.
Universal grinding head
Rotation of the grinding head is indexed, precisely and automatically, in 5°steps(1°steps to special order) by the index coupling.
Accurate vertical and horizontal feed of the grinding head is controlled by AC servo motors and precise ball screw.
The slideways are coated with low friction fluoro-plastic plates.
Dressing device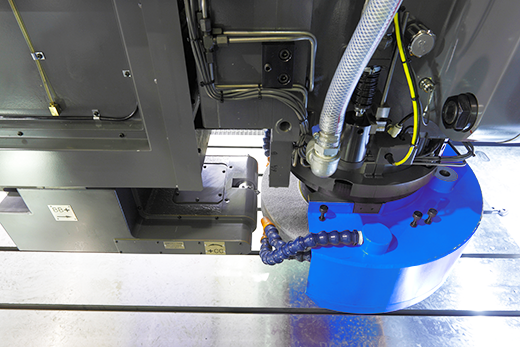 Using the grinding head's own feed mechanism, the grinding wheel can be dressed automatically with various forms by the diamond tool which is set at the lower right hand end of the crossrail.
Spindle
The grinding spindle is a spindle unit which uses high rigidity, super recision bearings.
Excellent operation
Pendant control box
The CNC Control Panel is built into a pendant control box from all which all operations of the machine are controlled. These include:all manual operations such as grinding head and table driving, simple grinding cycle settings, NC program editing, MDI operations.
Setting grinding mode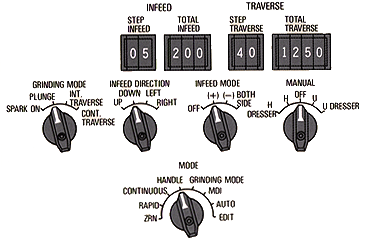 The grinding mode for manual grinding operations, such as plunge grinding and traverse grinding, can be set simply by using the digital switches and the select switches.
Spark on control device
This device automatically brings the grinding wheel close to the workpiece and stops when operating load on the grinding spindle changes as the grinding wheel touches the workpiece. The directions of approach are downwards for the horizontal spindle grinding head and up, down, left or right for the universal grinding head.
CNC automatic operation
All operations, including vertical and horizontal grinding head feed, table driving and dressing operation, are controlled by the CNC Controller.
High volume, repetitive processing operations can be fully automated with numerically controlled programs which are thoroughly interwoven with operator know-how.
For low volume operations, the operator can easily set up the operating cycles of a pre-set system.
Grinding flow chart
CNC control equipment specifications
Item
Specifications
CNC control equipment
FANUC Series 31i
Controlled axis
( )denotes additional axis
Y, Z, V, W, A, (X), B, *C, AA, BB, CC
Simultaneous controllable axis
4 axes (positioning and linear interpolation)
Minimum increment system
0.001mm
Tape code
EIA or ISO (automatic recognition)
Decimal point input
Yes
Rapid traverse rate
6000mm/min (Y, V axes)
3000mm/min (Z, W axes)
Rapid traverse override
0%,25%,50%,100%
Freerate command
mm/min units, F4 digit direct designation
Feedrate range
(manual operation) 0~1500mm/min(21 notches)
(automatic) F4 digit command
Feedrate override
0〜200%
LCD&MDI panel
10.4inch(*15inch) color&full-keyboard
Custom macro
Yes
Command system
Both absolute/incremental commands
Post program length *1)
640m *max.20480m
Tool offset memory *1)
999 *max.2000
Registered program storage *1)
500 *max.4000
Custom macro common variable *1)
600
Reference point return
No.1 No.2 *1 ) No.3 No.4
Position detection system
By pulse coder, semi-closed loop type
Coordinate system and coordinate system setting
G92, G52, G53, G54〜G59
Various functions

Memory type pitch error compensation
Backlash compantation
Skip function(G31)
Separate manual pulse generator(magnification ratios X1, X10, X100)
External data input/output
Reader/Punch interface(Standard RS232-C)
Single block
Dry run
Stored Stroke Check
Handle interruption
Date protection key
Dwell function(G04)
T, S Code, Auxiliary function(M Code)
Display language conversion(Standard: English, Japanese)
Operating times, part numbers display
*Crowning function
*Background edit function
*Optional accessories
*1)Includes quantities used by standard grinding programs supplied by us.
Abundant additional technology(options)
Automatic measuring device of grinding allowance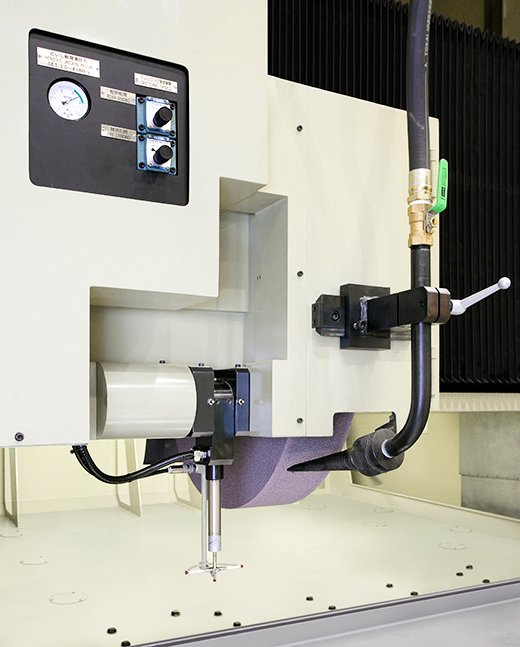 ・With this device fitted to the grinding head, the accuracy of the workpiece on the ground surface is measured automatically. All measuring is performed automatically in accordance with the numerical control program and the results of the measuring are input automatically to the CNC equipment for head positioning and grinding allowance. This means less tine is needed for pre-processing measurement and grinding can be fully automated.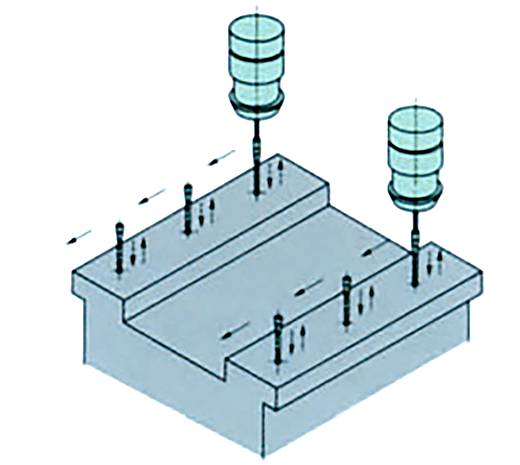 Measuring grinding allowance
Measuring thickness
Convex/Concave grinding device
Because the vertical and horizontal movements of the grinding head(universal grinding head) are synchronized with the table movement by a pre input NC program, cured surface can be ground. This avoids the necessity skilled operator and ensures constant accuracy.
Concave and convex forms are set by the NC program so changes and additions to shapes are easily made and several workpiece may be ground simultaneously.
Automatic grinding wheel changer
This device automatically changes the various grinding wheels used on the universal grinding head.
The grinding wheel, flange and grinding wheel cover are changed together as one unit.
The grinding wheel is clamped by dish spring and unclamped hydraulically(pullstud system)
After the grinding wheel has been changed, its dynamic balance is adjusted automatically. Also, depending on the number of grinding wheels to be stored, either of the following systems may be selected.


Rotary magazine system(4 wheels)
In-line palette system(extra grinding wheels can be added)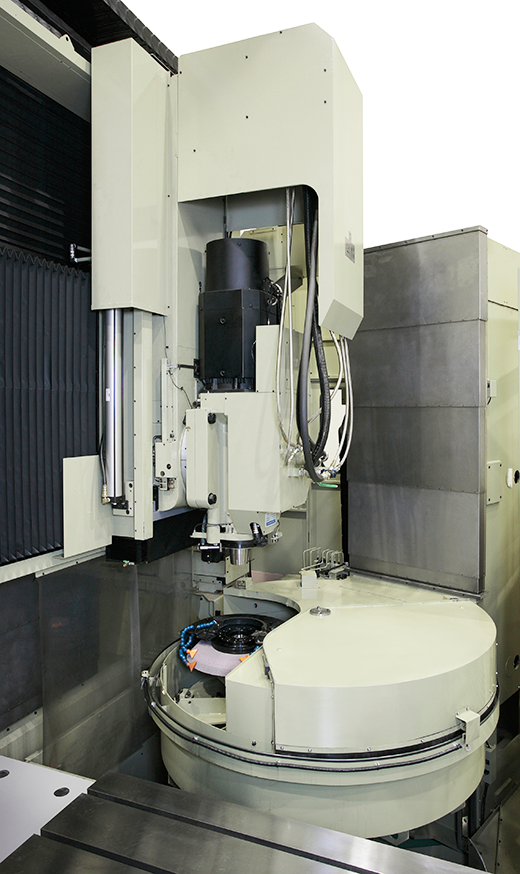 Rotary magazine system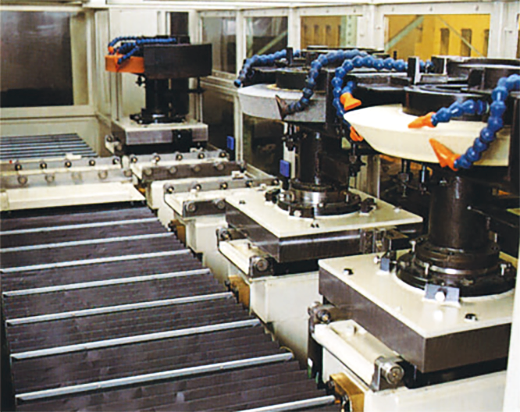 In-line palette system
Automatic grinding changer, in-line palette system
Palette changer
8 rotary palette pool system
Reducing the time required for setting up and carrying the workpiece and in and out, improve efficiency and saves labor.
Various palette changers can be used to suit space and layout.
8 rotary palette pool system
Multistory palette pool system
The common use of palettes by the machining center leads to integrated factory automation.
Multistory palette pool system
Tandem table system
The tandem table system combines improved working efficiency through reduced set up time with high precision grinding of large workpiece.
While table A is grinding, table B is stopped. This enable workpiece to be set up, removed or measured while the machine is operating, which increases the operation efficiency of the machine.
Coupling and separation of Table A and Table B is automatic.
Since Table A and Table B can be used while coupled together, long workpiece can also be ground.
Grinding center
CNC Guideway & surface grinding machine with the automatic grinding wheel changer and the palette changer.
This is a fixed crossrail, single universal grinding head.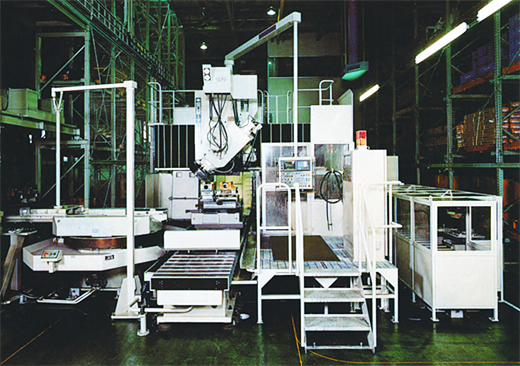 Optional accessories
Coolant separator
Choose from the following, depending on the workpiece and finish required.
Magnetic coolant separator
Magnetic coolant separator with paper filter
Other
Coolant temperature control device
The coolant temperature is maintained constantly at he temperature of the main machine by a heater and cooler installed in the coolant tank.
Heat deformation suppression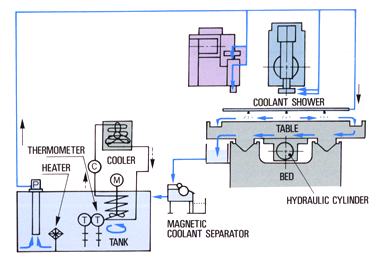 Coolant circulated inside the table suppresses heat deformation of the table due to the heat generated by the hydraulic cylinder and the stabilized table movement permits finish grinding at any time.
Dynamic wheel balancing device
The dynamic balance of the grinding wheel can be simply adjusted while the grinding spindle is rotation. There are two systems.
Interval balance pieces in the spindle.
Enclosed in the end of the grinding spindle are two fan-shaped balance pieces. Dynamic balance of the grinding wheel is effected by controlling their angle of rotation.
Interactive balance device
By automatically displaying the unbalance vibration value during rotation of the rotating shaft and the appropriate angle of the three balance pieces provided on the whorling flange, it is possible to minimize the dynamic balance of the palm gutter easily. Once balanced you can keep it for a long time.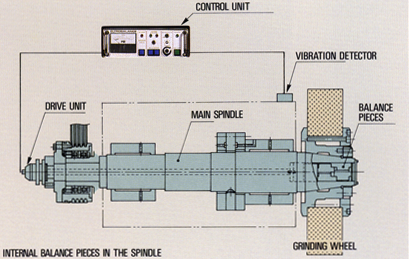 Crossrail level adjustment device
The adjustment can be made while observing the crossrail level in the CRT display on pendant control box. With a specially specified program, the adjustment can be made automatically.
Grinding wheel flanges
Case study
We decided to continue buying from them because we have established a relationship of trust.We also improved our working environment thanks to the various proposals they made.
Product specifications
Machine specification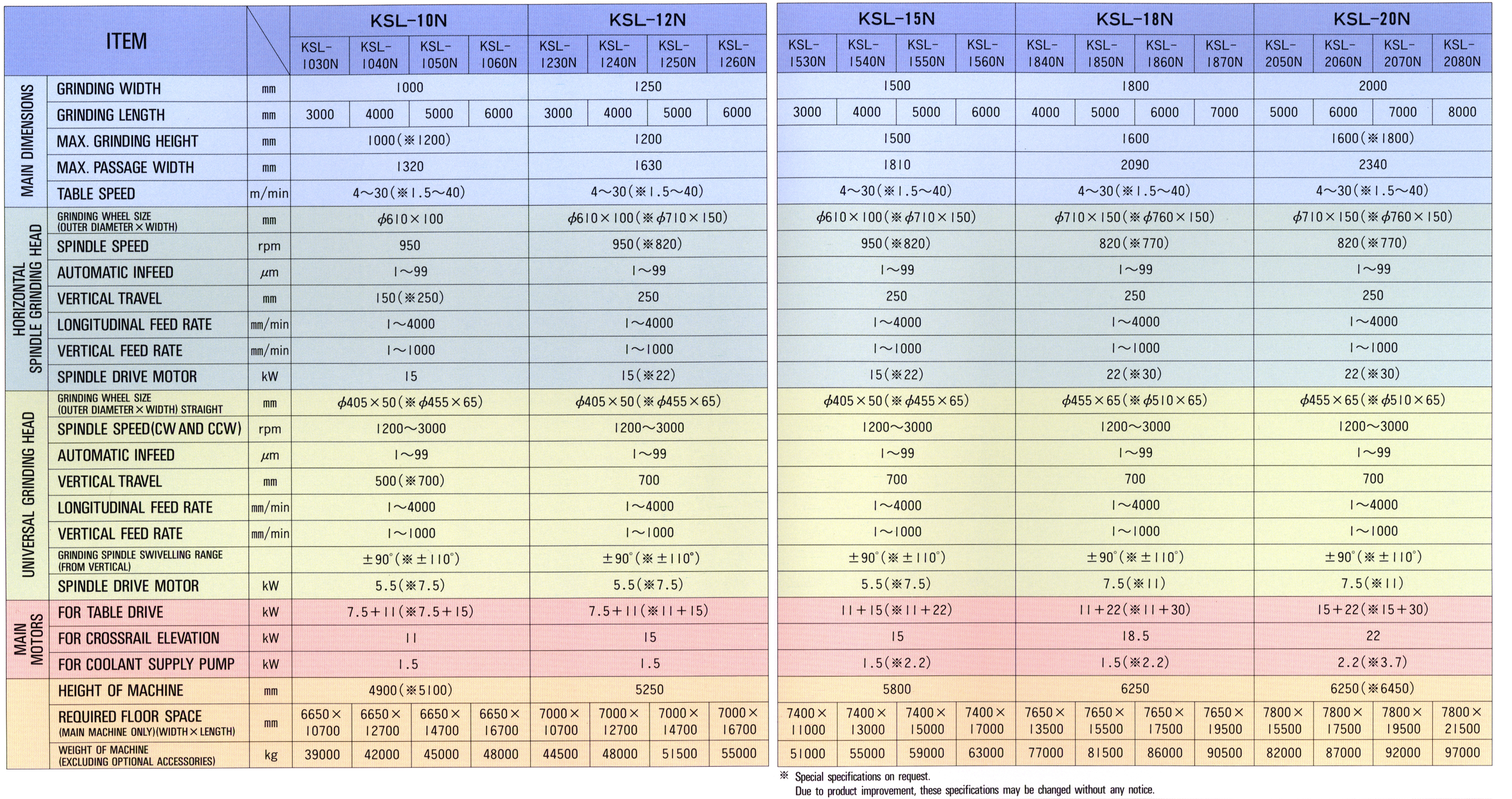 ※Please check the catalog for product specification details