Recommended Industry and Workpiece
Grinding machine Cutters T-dies and long cutters
Grinding machine Liquid crystal and semiconductor parts Glass and ceramics
Grinding machine Molds Mold plates
Grinding machine Molds Motor core molds and progressive molds
Grinding machine Various machine parts Linear motion guide
Product characteristics
Easy to operate
The automatic cycle can be run by simply inputting the data on the interactive operation screen.
A wide range of grinding software can be added depending on the customer's usage purpose (optional accessory).
Equipped with a graphic interactive input format for a fully automatic grinding function, including dressing cycle, as a standard.
Compatible with customers' proprietary programs as well.
Improved grinding precision
Thermal displacement is controlled by cooling the grinding head.
The appropriate peripheral speed can be set to grind various materials by adding a spindle inverter control device (optional accessory).
A V-V mechanism is adopted for the table slideway to achieve a stable table turnaround operation.
Magnetic chucks (optional accessories) can be added and selected.
Energy-saving, space-saving and clean
All spindles are driven by servo motor to save energy.
Saved energy and space by not using a hydraulic unit.
Prepared special specifications to ensure a clean working environment by blocking the dispersion of coolant mist.
Splash guard

Sliding type
Attached to the ceiling on the left
Fully sealed type
Stainless steel

Dust collector
High-precision specifications (X series)
The grinding head front/rear slideway uses the hydrostatic guide format.
The spindle uses hydrostatic bearing.
The grinding head is equipped with a hydraulic counterbalancer.
The grinding head vertical feed and front/rear feed have full closed-loop control using linear scale.
Control panel and grinding software
The control panel is built for simple operations.
The teaching method is adopted for the simple settings of grinding conditions and the table reversing position settings via the interactive screen, so anyone can operate it easily.
Equipped with a fully automatic grinding software that includes layered grinding and double-sided grinding as a standard, in addition to rough/fine grinding and dressing cycle.
A variety of programs can be added according to the customer's usage purpose, such as crowning device, contouring function, and grinding wheel forming dressing function (optional accessories).

Z axis convex/concave grinding device (凸)
Spark-on control device(optional accessories)
This function helps to reduce the air cutting time and improve the actual operation rate.
The meter relay type or the high-sensitivity type can be selected depending on the characteristics of the workpieces to be ground.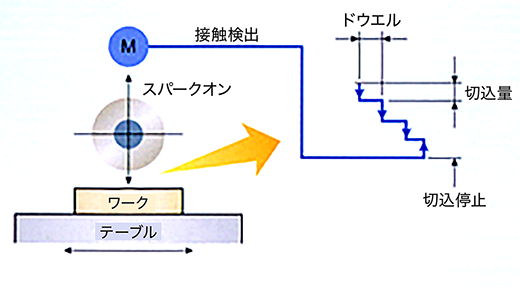 Coolant processing equipment (optional accessory)
The coolant is essentially the blood of the grinding machine.
The coolant processing equipment is important, so we will introduce one that fits the customer's usage purposes.
The FINE MAG magnetic separator is developed by our company.
Dynamic grinding wheel balancing device (optional accessory)
To ensure that the important grinding wheel is balanced on the machine, an interactive, fully automatic type (water balance type) or other types of dynamic grinding wheel balancing device can be added.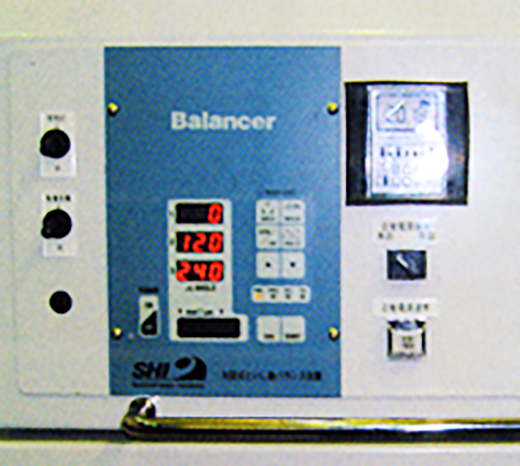 Vertical specifications (optional accessory)
By adding a vertical grinding head to the standard horizontal grinding head, the side and other parts can also be ground instead of just the top.
Case study
Achieved satisfying operational revolution and high quality and precision with the installation of the KSH series.
Product specifications
Specification
| | |
| --- | --- |
| Grinding width | 800 mm |
| Grinding length | 1500~5000 mm or more |
| Max. grinding height | 700 mm |
| Head automatic feed rate | 0.1~99 µm |
| Spindle drive motor(horizontal axis) | 7.5~15 kW |
Standard accessories
CNC control equipment FANUC FS-0iM
Grinding wheel(Ф510‐75mm)and flange
Diamond tool with magnet base (can be fixed to processing upper right processing seat on table)
Splash guard
Wheel lifting tool
Installation parts
Power supply equipment
Work light
Leakage breaker
Table top surface T groove
Optional accessories
Coolant device

Magnetic coolant separator
Magnetic coolant separator with paper filter
Centrifugation
Cyclone separator, others

Coolant temperature control device(standard, high precision)
Magnetic chucks(various) and automatic neutrolator
Spindle inverter control
Spindle drive motor(15kW)
Dynamic wheel balancing device
interactive system/coolant injection system
Automatic measuring device of grinding allowance
Wheel flange (spare)
Wheel balancing arber
Cutting of T-slot on the table
Spark-on control device
Meter relay type / high sensitivity type
Automatic overload retracting device
Mist collector
Splash cover
Slide type / Left ceiling / fully closed type / SUS type
Rotating lamp(3-color)
Program storage length
160m/320m/640m
Automatic start or cut off device
Convex/concave grinding device
Contouring function
Special grinding software
The designated color
Universal spindle head
Spindle head / Vertical / Front / Back Static Guide
Spindle static pressure bearing
Coolant hose for table cleaning
Integrated operation meter
Rotary dresser(diamond/CBN)
Spindle head over dresser
Mold dressing