We decided to implement the product in consideration of the future and it has contributed significantly to greater productivity.
---
Reason for implementation
Prior to installing KSL-F820, we had installed a general purpose machine to do the same grinding work, but many processes had to be done manually by using our senses. We decided that it would be better to have the NC machine because we have to teach newly hired employees about the operation, so we began considering the installation of KSL-F820.
It was different from the NC machine we had used in the past, so we were a little uncertain at first, but we discovered that it was easy to handle when we actually used the machine during the test operation. We thought it was effective, so we decided to install it.
Benefits after installation
All we have to do for KSL-F820 is to set up the initial settings; after that, the system will run on its own until all necessary processes are completed. This allows us to use that time to prepare and manage other tasks.
We are struggling with the issue of labor shortage so we are truly glad that we can increase productivity without much difficulty.
In terms of the work load, we are looking to increase our production rate by 1.5 times overall.
There are many variations in our manufacturing process, and we need to change the settings each time. When we change the grinding wheel, it usually takes approximately 30 minutes, including the input of parameters such as the grinding wheel width. However, after consulting with Sumitomo Heavy Industries Finetech, we were able to get the system to remember five patterns of parameter settings.
Even though the tasks do not take a lot of time individually, I think it does affect the production efficiency significantly when you look at the numbers for the whole year.
In terms of the work process, we only had the program for grinding flat surfaces at first, but we added the option to grind layered workpieces, which allowed us to grind separated double-sided workpieces and layered workpieces at the same time.
Another benefit is that the KSL-F820 is more compact than regular machines. The table height makes it easy to work as well, so there is no need to secure additional working space and the work can be done smoothly.
Our work efficiency has also improved. Before installing KSL-F820, we were using a large four-meter grinding machine just to grind small workpieces measuring a few dozen centimeters. However, we now use KSL-F820 to do this work, so we are able to cut operation costs such as oil and power consumption significantly.
Maintenance and after-sales service
We have installed grinding machines from other companies that continue to run even if we forget to set the magnet, but KSL-F820 would display an error whenever that happens, so we think it has helped us improve our work safety as well.
As for maintenance, the system will display a warning alarm, so new operators can use the machine without a problem, which was the reason why we decided to install KSL-F820.
The display settings of the panel also reflect small changes properly and the control panel is very easy to use, so it is very reassuring.
When we were installing the prototype, the staff in charge at Sumitomo Heavy Industries Finetech was helpful and gave us advice. The staff listened to our opinions and met our requests, thus earning our trust.
They also made arrangements so we can easily approach them right away if we have any issues or questions, which was reassuring because we will continue to use this machine every day.
Benefits of installation
Capable of handling a variety of tasks by remembering input parameters
Successfully reduced oil and power consumption by making the size more compact than regular machines
Prevents operational mistakes by displaying errors in detail

Based on years of experience and our rich knowledge, we have created a new series of Sumitomo double column surface grinding machines to meet the diverse needs of our users.
Customer information
Kazuhiro Moriyama, Assistant Manager, Second Machine Section, Manufacturing Department, Taiwa Niigata Co,. Ltd.
We will provide support!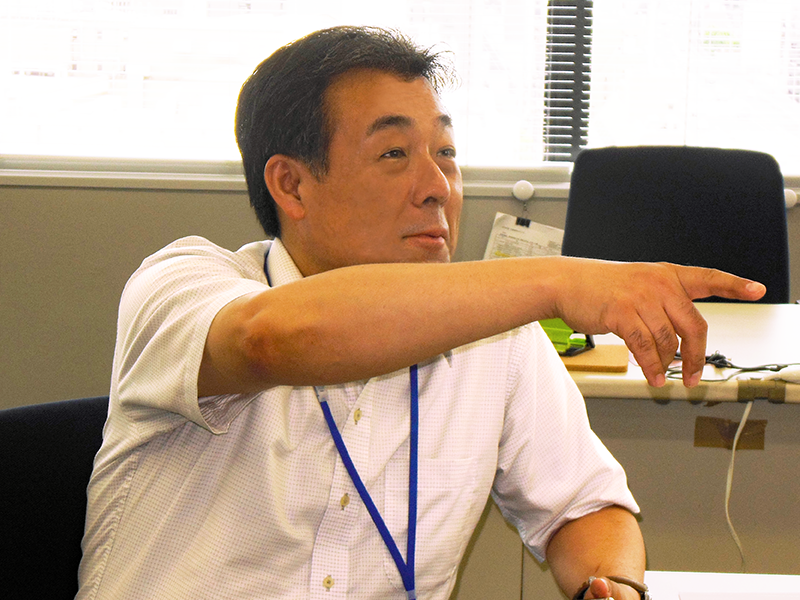 We work hard every day to make our customers happy.
Using the combined strength of Sumitomo Heavy Industries, we offer solutions for automating tasks and saving manpower that other companies cannot provide.
Please do not hesitate to contact us with any problems that you have, regardless of how small they may seem.
Keisuke Komatsu,
Staff Manager Machine Tool Sales Dept. Sumitomo Heavy Industries Finetech, Ltd.